From the Beginner to the Advanced Dancer, we offer you our Newcomer Dance Programs
SOME OF OUR INTRODUCTORY PROGRAMS to choose from. Mix them to suit your own special needs, they are all ideal for the Newcomer, and are fully guaranteed to have you dancing . . . . . . . .
We are open seven days a week - Schedule at your convenience 10:00 am to 10:00 pm.
Start with our three lesson program, then discuss your needs and options with your teacher. All programs are fully guaranteed.
Wedding Dance Program:
We'll begin by pairing a dance with your special song of choice. Afterwards, you can customize your dance program to include Basic, Advanced and/or Exhibition level lessons.
Basic overview of the popular social dances, ideal for the beginner. In this program you will learn all of the popular social dances. How to lead & follow, rhythm & timing, how you look & feel on the dance floor. This is the 101 of dancing. You will now be ready to have fun!
Cover the basic steps of all the popular dances.
Personal trainer to guide you.
Practice lessons to practice with other students of the same ability, under the guidance of instructors, at our Dance Meetup Party.
Come alone or with a partner - No extra charge! - "Two for the price of one."
Club Latin Program:
Learn all the dances being done today at the clubs. Salsa, Merengue, Bachata, Cumbia. This program prepares you for the club scene. You will be able to dance with any partner, to any music.

Rhythm Dance Program:
Learn all the rhythm dances, East Coast Swing, Jitterbug, Rock, Boogie, Lindy Hop and West Coast Swing.
Put some bounce into your step, then join one of the many Swing clubs in the area.
Ballroom Dancing as a Hobby Program:
Dancing develops social skills in the young, gives adults time to relax and keep fit, while meeting a host of new friends. For seniors, it is a proven fact it extends longevity and leads to a much more ctive lifestyle.
Join a program which will develop your dance ability.
Partner you up with a partner if you don't have one.
Develop your basic principals of good dancing.
Join in on the parties, club evenings, practice evenings, invasions to the local clubs, travel to dance enthusiasm, local, national or international events, enter the local competitions as you develop confidence, and most of all MEET, MIX AND HAVE DANCE FUN!
Waltz, Tango, Slow dancing, Foxtrot. Specializing in the ballroom dances. This is the one to choose if you are interested in taking up dancing as a hobby.

Have one of our professional instructors, who specialize in wedding dances, give you our three lesson starter program discuss your needs and options

Hip Hop & Breakdance Programs:
Are you part of the Breakdance revolution? Or is Hip Hop your flavour? Come join one of our cypher circles for your level. Our instructor, "Lone Drone," himself an active, leading competitor, will instruct you on the finer points and you'll be amazed at your progress, even after your first lesson. (4 week session for only $90.00.)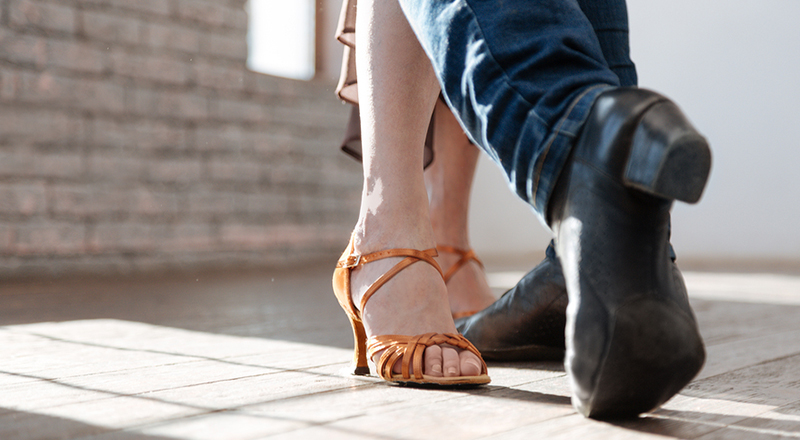 For Health
Develop a program, with you, or your doctor, which will gradually develop your fitness.
Social dancing is the only exercise, recommended by doctors which gradually develops your good health, no high impact, which is bad for your joints - no sudden, heavy workouts, just gradual improvement, while you have fun and enjoy yourself.
It"s a fantastic way to get back in shape. Improves cardiovascular health, develops muscular co-ordination, and most of all it's - a pleasure to do!

* Did you know, according to a recent study, dancing burns more calories than working out on a treadmill? Most of all it's much more pleasant and you don't notice it!
** In a recent study, it was found that frequent dancing was the ONLY physical activity to offer protection against dementia.
Bicycling 0%
Swimming 0%
Playing golf 0%
Reading 35%
Crossword 47%
DANCING 76%